"Slow" seems to be the new black. I guess the slow food movement started it all. Now I am starting to see consultants for "slow learning" and there is a whole track at Lift 11 France about the topic titled Can we use technology to reclaim control over how we and our organizations manage time?. From the introduction:
Technologies make our lives and work faster, accelerate economic and social rhythms. They bring about constant sollicitations, infobesity, and the blurring of boundaries between work and leisure. Individuals as well as organizations are trying to regain control over time. How can we achieve this?
Alex Soojung-Kim Pang is futurist from the Silicon Valley who has developed a framework for Contemplative Computing about which he is talking.
The first thing Alex asks us to do is check our email. Do we hold our breath when we are checking our email? Almost every does do that, and barely anybody realizes that. It is an ancient subconscious system triggered by modern technology. It shows how problematic our relation to technology has become. Every innovation is followed by a shift in the cognitive skills we need to practice and shift in the way we learn.
There is a way out: contemplative computing. This sounds like an oxymoron in this day and age, but doesn't have to be. This is something that you cannot consume or build, it something that you do. Four big ideas:
Our relationships with technology/computers is incredibly deep. We are born cyborgs: always looking to extend our minds. The problem is that today's technologies or badly designed and poorly used.
Humans have always had to deal with distraction and lack of attention and contemplative practices seems to have emerged about three millennia ago.
In order to change your extended mind, you have to understand how the digital world is trying to change you.
You can redesign your extended mind. One way of doing this is to self-experiment. Buddha treated himself as a laboratory in which he experimented on his own mind. Self-experimentation is a reminder that only we ourselves have the ability to redesign our extended mind. Tinkering (make-culture) is also way to get a better understanding. Self-experimentation and tinkering are complementary strategies. Distractions become less appealing as the inherent pleasure of attention replace it. Developing a contemplative approach to computing is not easy and fast, it is slow.
One questions at the end of the talk: Can there be a thing like a contemplative organization?
The next speaker is Kris de Deckers who works at Low-Tech Magazine (an example of an article from the magazine is Automata: engineering for a post-oil world?). In his talk he looks at ecotech myths and lessons from the past and wants to show us the potential of past and often forgotten technologies for a future sustainable society. The history of technology hides lots of interesting solutions that can help us in the future. An example is the Timbrel vault which is a materials saving way of building that was recently discovered.
Kris contents that our current consensus that we can engineer our way out of the current ecological problems we are facing: green tech or eco-tech has a lot of problems. Nearly all of these technologies are still dependent on fossil fuels, especially in their creation. You also need a huge import of fossil fuel to keep a society running on renewable energy (think about batteries). Another problem is that energy-efficient technology does not save energy, it actually often leads to more energy consumption rather than less energy consumption. Citroën's 2CV is as efficient as the smallest car made Citroën today. All the progress in efficiency in cars has gone into more speed, more weight, more power and more comfort.
Underlying this common view of high-tech sustainable society is the believe that we don't have to change our lifestyle. He doesn't beliefs this is actually possible. However this doesn't mean we have to go back to the medieval ages.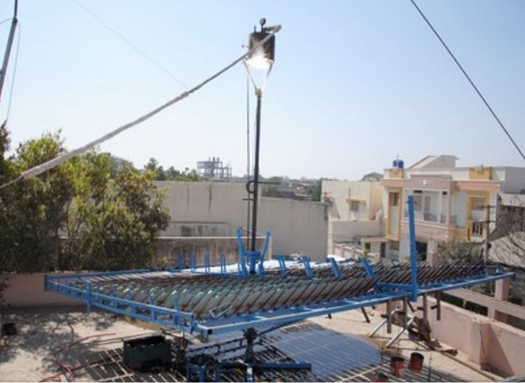 Now onto thinking about energy production/storage rather than energy consumption. We can learn a lot from how energy was created and stored before the industrial revolution. Europe had hundreds of thousands of windmills where used for all kinds of energy consuming applications (more than 100 industrial processes). How did they solve the energy storage problem (in cases of no wind/sun being available)? One backup solution was to use animals, these were not very efficient and thus only used for critical industrial processes. Another solution is that they did not store energy, but that they stored work. In the middle ages this meant that the miller worked whenever there was wind (even on Sundays) and where there was no wind he didn't work. We could apply the same "storage solution" to our modern technology. Storing work instead of energy eliminates the need for a backup infrastructure. This solution will create less production, but we have to realize that overproduction and overconsumption are big problems anyhow and this could be one way of solving it.
Solar energy is often talked about in the context of generating electricity, but it can also be used directly as it gives and endless source of heat energy. We now have concentrated solar power. If you use it to create electricity it is only effective in the desert, but if you use it directly you can use it in areas with less sun too. Unlike solar panels and wind turbines this technology can actually be used to produce itself.
Finally Anna Meroni is a designer speaking about Feeding Milano, a human platform to regain the meaning of slowness. Her project tries to marry the idea of conviviality to the city as a whole. Currently in Milan they eat very little of all that is produced agriculturally just a few kilometers south of the city. Feeding Milan tries to change this (to me it is seems very similar to La Ruche Qui Dit Oui that we saw yesterday).
Conviviality in this case is challenging the industrial system through collaboration and trust. One practical outcome is a farmer's market where people can come and eat and do workshops. They also have an idea-sharing stall that tries to decrease the time between an idea coming up and the implementation of the idea. Another things they have done is creating a pilot for farmer's boxes on a subscription model. The word for this is a "design supported community" in which the technology has disappeared.
She finished the talk with a quote from Illich (it seems to be a trend to finish your presentation with a quote today!): "The capacity to promote autonomy is a fundamental characteristic of a convivial tool". (Note to self, I really have to get to reading Tools for conviviality which has been lying around my living room for ages now).