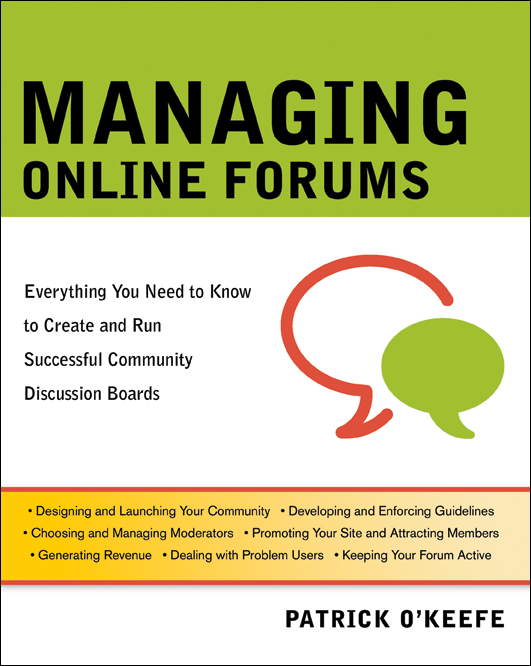 I have been a moderator inside the Dutch Moodle user community for quite a while now. It doesn't require a lot of work from me: everybody is completely civil and all I occasionally do is make sure that no questions stay unanswered.
Very soon I will be responsible for moderating a group of learning professionals inside a large multinational company. The community is brand new and is currently in a start up phase. I decided to spend some time this weekend reading Patrick O'Keefe's Managing Online Forums: Everything You Need to Know to Create and Run Successful Community Discussion Boards, to see whether I could get some advice that would be useful for that new task.
O'Keefe apparently has a wealth of experience running forums like KarateForums.com and phpBBHacks.com through his iFroggy network. The book has a companion website and he writes a blog about managing communities.
His community forums are out in the open and probably require a different kind of maintenance than an internal corporate network. He spends a lot of time talking about how to develop guidelines for members and staff (he includes useful templates) and about how to ban members. His advice is eminently practical, but it isn't the type of information I am looking for.
The two (smallish) chapters that were more interesting to me were: Creating a Good Environment and Keeping It Interesting. Both chapters have some useful tips like:
Always personally welcome new users.
Don't link users to general (unhelpful) sites when they ask a question. Instead take some time and link to the page they really need.
Members will get a sense of ownership of the community: do not make drastic changes without getting them involved in advance.
Share your successes: when you reach a milestone (like a certain amount of posts in the community), make an announcement and thank your users for their support.
If you have enough resources you could run a newsletter as something to add value to the community and keep people involved.
O'Keefe writes about a couple of games you can play in the forums. Survivor and Who Want to be a Millionaire? are explained in detail.
You could start a member of the month program or hold yearly award ceremonies.
All of this advice is very sensible, but doesn't reach the depth that I had hoped for. The questions I would have like to seen answered are:
What steps should you take to grow a community out of little or nothing?
What is the right balance between seeding a community with (staff) posts and waiting for the wider community to create some content?
What is the right moment to close out a discussion?
What are the critical factors that make a community successful? Does it work very well for a particular group of users? How should your approach be different inside a sports based community in comparison to being inside a tech based community?
Can any topic be central to a community? Where do you do draw the lines of being in scope and being off topic?
It would have been nice if he had tried to tackle these questions too. Do you have any answers to these questions? I would love to hear them in the comments.
Let me finish by quoting O'Keefe on whether it is important to be an expert in the subject of the community:
Have a passion for the community. If you have it, you can succeed. If you have passion for the subject, but no passion for the community or for running the community, you really don't have very much at all and you're in  for a struggle.
I think that is probably very true!