From November 30th till December 2nd I will be attending the excellent Online Educa which bills itself as the "The largest global e-learning conference for the corporate, education and public service sectors".
I'll be co-organizing two different events and would really like to meet you at either (or both!) of them. One is an Edubloggers dinner (a good Dutch tradition, now in an Internationalised version), the other a workshop in which we will create scenarios for the future of corporate learning. More information below:
1. International Online Edubloggers Dinner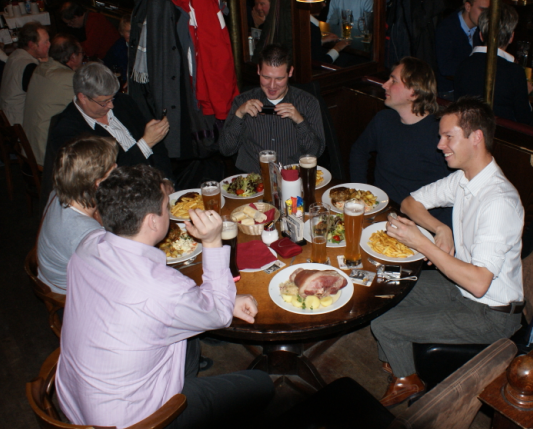 On Thursday December 1, 2011 Wilfred Rubens and I organize the International Online Educa edubloggers dinner.
Purpose
Networking, informal talk, having fun while eating and drinking.
For who?
Everybody interested in blogging about technology-enhanced learning. It's not necessary that you have your own blog. You even don't have to be an Evangelist. A believer is sufficient 😉
When?
Thursday December 1, 2011 at 20.00 hrs.
Where?
In a restaurant near the place where the Online Educa is held. So at a walking distance from the Intercontinental. We will take into account that we're in the middle of an economic crisis.
How?
We are not sure yet. If the group is small, we will eat à la carte. If the group is bigger, it might be a buffet. Everybody pays his or hers own food and drinks. We're Dutch, so we are going Dutch. If we have to order a buffet we might ask you to pay beforehand.
Registration
Please go here and comment on Wilfred's blog post. Fill in your email address with your comment (it will not be visible on the blog). Do let us know if you have suggestions for restaurants on walking distance of the hotel. Furthermore, you should mention if you are vegetarian or have other special dietary needs (e.g. an allergy to something).
Deadline
Due to logistics the deadline for registration is November 22, 2011.
We will inform you by old-fashioned e-mail when we have found a decent restaurant.
2. Preparing together for the future of corporate learning
When, costs and registration
This workshop will be held on November 30th from 10:00 till 13:00 and costs € 90,-. Registration is through the Online Educa website.
Description of the workshop
What will learning and development look like in the future and how can we prepare for success in these new worlds?
This workshop uses scenario planning and is a unique opportunity for those involved in defining strategies for learning and development within the workplace to consider potential futures in this field. Participants will examine the external factors shaping corporate learning and work together with industry experts and like-minded peers to create future scenarios that can be used to help them prepare more effectively for new worlds.
Scenario planning has been used extensively at Royal Dutch Shell to help change perceptions of the influence of external factors in shaping future working worlds. It is a strategic planning method used prior to defining strategies to help the organisation understand and respond more effectively to change. Willem Manders and Hans de Zwart from Shell, supported by facilitators from within the industry, guide participants through the process of:
understanding the external factors that can potentially shape the future of L&D
defining a number of L&D scenarios or worlds that could emerge as a result of external influences.
However, this is not just a workshop; the scenarios created in this session will be presented as part of the BUSINESS EDUCA conference track, enabling all BUSINESS EDUCA delegates to contribute to the development of these methods. Conference delegates will be encouraged to look for signals supporting different worlds as they take part in the wider conference and are invited to come together at the close of the conference to reflect on how these developed scenarios can be used in their respective workplaces to help shape future strategy.
In the "Closing Conversation" of BUSINESS EDUCA last year, delegates wanted to find a way to leverage the "brainpower" at the conference and create some new and tangible outcomes which will support them at work. In response to this need, this workshop is the start of a unique collaboration that all BUSINESS EDUCA delegates can be part of at ONLINE EDUCA BERLIN 2011.
Proposed Agenda
This half-day workshop leverages the Scenario Planning methodology adopted by Shell to help participants consider the external factors influencing Learning & Development in business in order to establish scenarios. External factors include:
technology playout – the impact of accelerated adoption
the effects of changing legal requirements
the influence of changing educational systems
the "Big Crew Change" – know-how that leaves with older staff while new staff arrives with different expectations
These factors are not exclusive and delegates will identify other external influences that are shaping our future. Industry facilitators will also provide additional perspectives and help identify challenges. Delegates should come with an open mind but expect disagreement and debate in order to allow for a rich range of outcomes.
We will have three blocks of approximately an hour:
Key trends and uncertainties that will shape the future of corporate learning (in four groups)
Drafting first set of scenarios based on uncertainties (in four groups)
Summarise the key insights and discuss how we can leverage this during the rest of the conference (one group)
Target Audience
This workshop is specifically designed for all those directly involved in defining strategies for learning and development in the workplace. Senior learning and development executives from private, public and not-for-profit businesses are invited to network and work together. Seating for the workshop is limited.
Prerequisite Knowledge
Experience in, and responsibility for, defining learning and development strategy for business.
Outcomes
Participants can take the developed scenarios back to their own organisations, to look for signals which will help them prepare for the most appropriate future for their Learning & Development department.
The workshop also aims to expand the scenarios further into the main conference dialogue, allowing the contribution of BUSINESS EDUCA conference delegates to benefit the wider conference audience.
Finally, the resulting conference outcomes will be highlighted as part of the closing conversation of BUSINESS EDUCA.