One theme at Lift France 2011 is Care. It is introduced as follows:
From patient networks to personal genomics, from the quest for autonomy and well-being to do-it-yourself bio, new technologies and new business models are getting ready to transform the world of healthcare. Are the players ready?
First up is Paul Wicks a research scientist at PatiensLikeMe](http://www.patientslikeme.com/). His talk is titled Putting patients at the center of healthcare; disruption in medicine, research, business, and drug safety.
Initially we got things wrong on the Internet. We thought it was about information, but have now learned that it is about really easy group formation (Wicks must have gotten this from Clay Shirky's Here Comes Everybody). This has been very disruptive for certain type of industries (e.g. the travel agent). One of the professions that has not been disintermediated yet is the medical profession. The point of PatientsLikeMe is to for patients to share their health information in order to learn from others like them and then use that information to discuss treatment options with their health care team.
One radical idea that they have is to give back the data in such a way that people can do their own data analysis (e.g. comparing effectiveness of certain types of medicine for a medical problem correlated with chance of side-effects). They try to be scientifically rigorous in the way that the data is used and make sure that all articles are open access. 23andMe is doing something similar with their 23andWe research.
This is not without problems, mainly around privacy. Wicks suggest we might need a phenotypic non-discrimination act for people who are willing to share their data for the greater good. Based on questions by the facilitor I now realize that PatientsLikeMe is actually quite a commercial venture and earns its money by selling the data to 3rd parties.
Jonathan Kuniholm lost an arm in a war, came back and started a PhD studying prosthetics. He created the open prosthetics project. He started his talk saying that he is wearing an arm that was patented in 1912 with a hook that was developed in the fifties and that the whole arm contains no motors. Imagine if the technology that we use would progress in a similarly slow pace: terrible. The problem is the small market size (only six other amputees are on PatientsLikeMe for example) leading to relatively small research budgets. We have a multiple market failures here. There is no lack of ideas, they are actually rampant. But very often they are design exercises without any practical purpose.
It would be great if prosthetics could use the innovative solutions that are developed in other industries. Unfortunately licensing agreements and patents often get in the way. Designing for larger markets also would not really work. Another option is using user participation and social collaboration. He then showed a lot of examples of "make" culture and 3D printing and how people are trying to use these type of technologies (not really successfully) for prosthetics. He is now starting a company, StumpWorks, owned by amputees to build the things they want to build.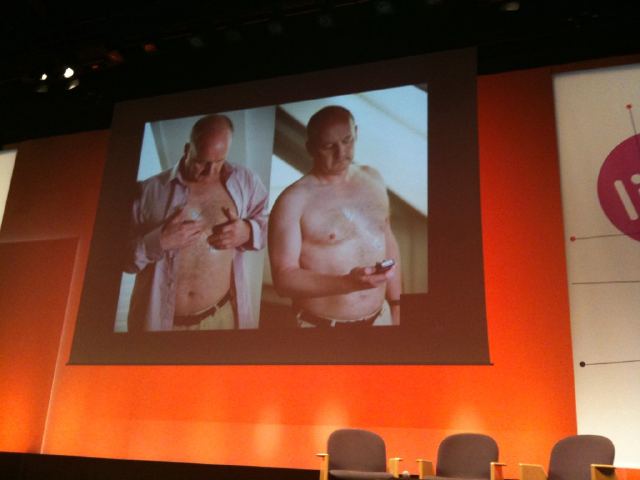 Tobie Kerridge is based in the interaction research studio at Goldsmiths in London. His talk is titled Debating Biotechnology – Speculative Design as Public Engagement. He is doing a project called material beliefs. From the website of the project:
Material Beliefs takes emerging biomedical and cybernetic technology out of labs and into public spaces. The project focuses on technologies which blur the boundaries between our bodies and materials, and how design as a tool for public engagement can be used to stimulate discussion about the value of these forms of hybridity. [..] The lab becomes a site for collaboration between scientists and engineers, designers, social scientists and members of the public. Alongside existing research activity such as collecting experimental data, writing academic papers and funding proposals, the collaborations lead to a parallel set of outcomes including interviews, brainstorming, drawing, photography, filming and discussion.