My blog, as one of the preferred outsourcing partners of my mind, will serve as a keeper of some of my notes and thoughts on Online Educa 2009 in Berlin. This will be a relatively disorganised post with a lot of different short bits of information, apologies in advance.
Blog posts
Earlier, I wrote a couple of blog posts about this year's Educa:

Twitter
I used Twitter a lot this year trying to capture some choice quotes and thoughts. Twitter does not give you an easy way to show all your posts with a particular hash tag (why not?), so you can view my past tweets through Tweet Scan. Here are some highlights:
I wasn't the only person tweeting at the conference. The tag was #oeb2009 and Twubs provided a nice hub.
Making the switch from Blackboard to Moodle
Alex Büchner from Synergy Learning talked about organisations switching from Blackboard to Moodle. He gave three reasons for making the switch:
Moodle is a better product.
Staff and students prefer to use Moodle over Blackboard (see this report).
Moodle has a lower Total Cost of Ownership (see this report).
Alex made a lot of people laugh with his graphic showing how Blackboard is gaining market share through acquisitions and how Moodle still manages to trump that: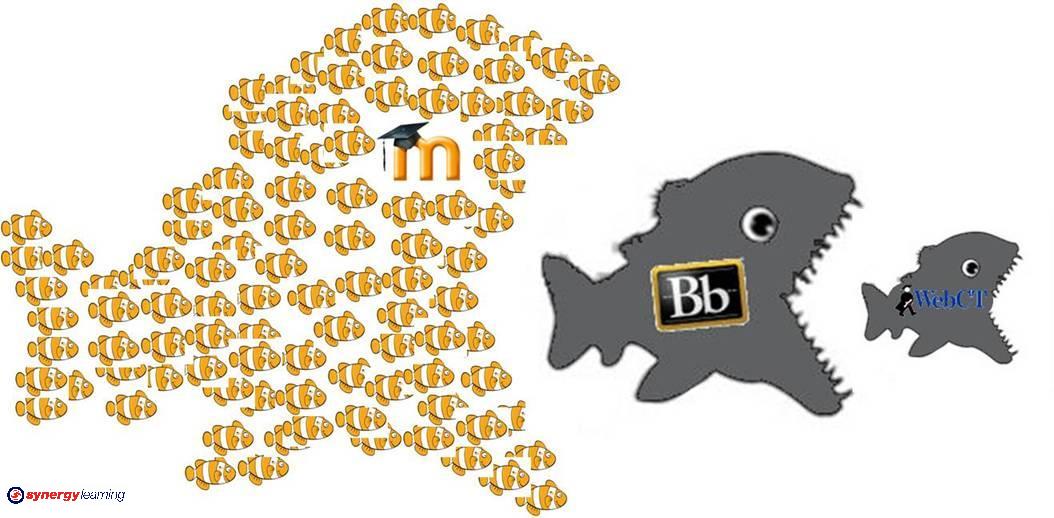 Brochures that I picked up
There were a lot of exhibitors all handing out brochures. These are the companies/services of which I kept the brochures:
Lord Puttnam and We Are The People
Lord Puttnam keynoted on the first day. He talked about his latest video project titled We Are The People We've Been Waiting For. The basic point of the movie is that we are not preparing our children for the future that is waiting for them. You can get the DVD you for free when you order it online. I ordered and watched it and thought it made a good case for making a step change in our educational system. My favourite talking head in the movie was Ken Robinson. If you have never seen his TED talk, then you should rectify that situation immediately.
An unconference with Jay Cross and his Internet Time Alliance friends
Jay Cross organised a couple of unconferences with his Internet Time Alliance friends. I always admire Jay for how he manages to utilise the Internet to his and his clients advantage. His self-published "unbooks" are a great example of this. His sessions were by far the most interesting and engaging at this year's Online Educa. Jane Hart and Charles Jennings were in the room and Harold Jarche and Jon Husband were available through video conferencing.
The main question of the session that I attended was: What are the major challenges/vision/issues that we see moving into the 21st century when it comes to learning? Jarche thinks organisations will have to deal with more and more complexity. Everything that is simple or can be commoditized will move to the lowest bidder or will be an automated process. What is left is complex. The training functions are currently not able to deal with this complexity. Cross considers the global downturn a symptom of the end of the industrial age and the beginning of a truly networked world. In that world intangibles are much more important than tangibles. Our training metrics will have to change to reflect this.
Then followed a selection of models and ideas that are mostly familiar to me, but are valuable enough to share again:
Bribing the knowledge workers on whom these industries depend will therefore simply not work. The key knowledge workers in these businesses will surely continue to expect to share financially in the fruits of their labor. But the financial fruits are likely to take much longer to ripen, if they ripen at all. And then, probably within ten years or so, running a business with (short-term) "shareholder value" as its first—if not its only—goal and justification will have become counterproductive. Increasingly, performance in these new knowledge-based industries will come to depend on running the institution so as to attract, hold, and motivate knowledge workers. When this can no longer be done by satisfying knowledge workers' greed, as we are now trying to do, it will have to be done by satisfying their values, and by giving them social recognition and social power. It will have to be done by turning them from subordinates into fellow executives, and from employees, however well paid, into partners.
Accelerating the Adoption of Innovations
I had a great round-table discussion with Ellen D. Wagner from Sage Road Solutions (kudos: the first business card with a Twitter name that I have received, maybe pretty standard in the valley?), David James Clarke IV from Toolwire and others about how to accelerate the adoption of innovations.
Wagner wanted to overlay Gartner's Hype cycle over Rogers' adoption curve. Gartner's hype cycle looks like this:
Rogers's adoption curve is as follows:
Wagner puts these two graphs together:
She shows exactly in which phase the pain lies and where extra stakeholder support is necessary. The whole discussion reminded me of this great Geek and Poke comic:
David James Clarke IV and Experiential Learning
David James Clarke IV of Toolwire also presented on experiential learning in a plenary. His argument was that in the current information economy knowledge is not power anymore. It is access to knowledge and the ability to turn that knowledge into action and decisions that is power.
He talked about the tension between richness (the depth of the experience) and reach (the amount of people the experience can reach) as first described by Evans and Wurster which, if adapted to the traditional educational field, leads to the following tension between classroom (high richness, low reach) and distance (low richness, high reach) learning:
His point is that technology is now at a point where this tension can be overcome:
This is where experiential learning comes in. Students should have hands-on real world experiences while they are in school. He finished his talk with an example from the Matrix. I quote from the white-paper that he and Charles Jennings wrote on experiential learning:
The movie The Matrix provides an exceptional example of experiential learning in action. In this case, it is literally a matter of life or death. In a scene towards the end of the movie, our heroes – Trinity and Neo – find themselves trapped on the roof of the Agents' headquarters. Their only escape is via a military helicopter.

The problem is neither of them knows how to fly a helicopter … yet. So what does Trinity do? She calls her Learning Management System (LMS), of course. In this case, the LMS is represented by a phone operator named Tank.

Trinity requests a specific learning object – Helicopters for Dummies! – and Tank downloads the skills directly into her brain. You can appreciate the experiential learning significance here. Once Trinity has received the skills, she and Neo fly the Helicopter to safety and continue saving the world!

This is a perfect example of just-in-time, context-sensitive experiential learning delivered exactly when the student needs it … in 30 seconds!
Clarke later in the day did a Pecha Kucha with 10 movies about learning as his topic:
[youtube=http://www.youtube.com/watch?v=JWXyu6J0aZI]
I have decided that I will invest some time into creating my own Pecha Kucha: a top ten of education philosophers.
Niall Winter: a Framework for Designing Mobile Learning Experiences
Niall Winter is an interesting researcher at the London Knowledge Lab. He talked about the fact that mobile learning has failed to exploit the social practices by which the new affordances of mobile devices become powerful educational interventions. He sees designing mobile learning experiences as one of the key challenges for the technology enhanced learning community. It important to focus on the learning intervention and not be techno-centric. This should lead to socio-technical solutions where the context and the activity determine the success. His goal then is to design activities that are appropriate to the context.
He does this using a participatory design methodology going through the following time consuming process:
Explore the institutional context: technology, identifying existing practice, participants' perspective

Explore the learner context: scenarios, concerns, (un)expected new practices (iterative cycle)

Deploy and go through the cycle again
The host of Niall's session, Herman Van der Merwe, introduced the audience to the International Association for Mobile Learning.
Two final interesting links to explore in the future
Final conclusion
All in all it was very worthwhile to go to this year's Online Educa. I don't think there is another occasion where that many members of the educational technology community are present.