Joëlle Liberman (Égérie Research) and François Jégou (Strategic Design Scenarios) are hosting a session titled Innovaton Futures, Innovating within innovation challenges. This workshop is based on an European project titled Innovation Futureswhich is a foresight exercise on emerging patterns of innovation. From their introduction:
How is innovation changing and which challenges innovation will have to face in the coming future? INFU (www.innovation-futures.org) is an on-going European research project focusing futures of innovation, scanning weak signals of change in the current innovation landscape, extrapolating new patterns, discussing emerging visions, scenarios and implications for policy and practices.
At the start of the workshop we were put into pairs and given a "weak signal" that they have identified. Mine was: CoWorking Houses as Creative Hubs: "More and more of the nomadic knowledge workers from the creative class join CoWorking spaces. CoWorking houses offer an easy, flexible and budget workspace combining workspace with a creativty hub. One question to ask about these weak signals is what would happen if they would turn into mainstream which of course begged the question whether maybe in the future mainstream is that there is no mainstream anymore. Next up we were asked to imagine being at a board meeting of the Innovation Agency in 2036 (25 years from now). The agency is facing a couple of challenges and has to find a solution to these. Our table had to think about the following: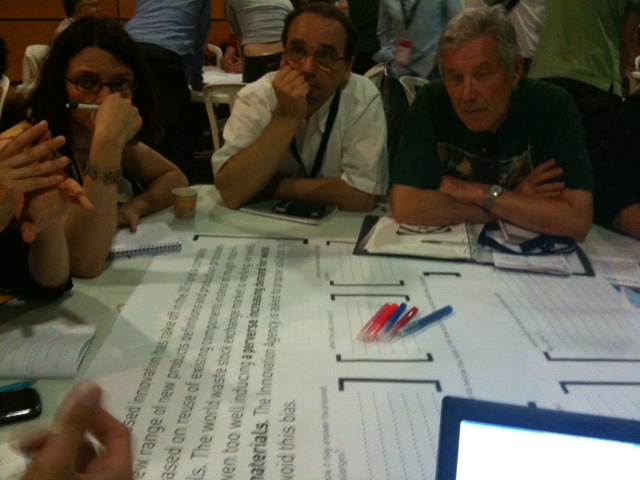 "Waste based innovation has taken off in the 00's and a complete new range of new products definitions and production processes based on reuse of existing components instead of rough materials. The world waste stock exchange market is working very well, even too well inducing a perverse increasing demand for waste materials. The Innovation Agency is asked to propose solutions to avoid this bias." '
Our initial thoughts were around whether this would be a problem that the market can solve itself or whether this would require some governmental intervention to solve. Could there be a tertiary market around waste credits to counter this? Should we require companies to deal with their waste locally, avoiding worldwide trade in waste materials?
I proposed that the cause of the problem seems to be that the consumer has been educated to appreciate recycled products. This signal for whether something is "good" is not working anymore and we should have an alternative. The obvious thing to do is to take more effects of a product into account when you decide to buy something: look at the total cost of ownership over the use-life of the product. Philippe Méda suggested that one way of doing this would be to focus on making sure that products have longer lifecycles. How do we know whether it is better to drive a very old but wasteful car, versus buying a new one with its environmental costs of production? Somebody suggested that maybe the idea of ownership is the problem and wasteful in itself. Instead of ownership you will start licensing/renting products. Proposing an alternative model to ownership based on sharing. Hopefully the current transaction costs for sharing will be made small enough in 25 years for this to be easier than it is today!
Each group had to present their ideas. Unfortunately this drained the energy out of the room. It seemed like each table had had a good discussion, but these discussions didn't translate well to a presentation to the whole group. No deep discussions after each presentation. I do hope the output of each group will be digitised in some way and made available (the presenters promised it a link will be published here).
The one question I have after this workshop is about the methodology itself. I think there is a lot of potential in imagining yourself in a board meeting somewhere in the future, but not all the potential came out at this workshop. How could this be improved?