Arjen Vrielink and I write a monthly series titled: Parallax. We both agree on a title for the post and on some other arbitrary restrictions to induce our creative process. Nowadays IT is as ubiquitous in a working environment as water, electricity and a toilet. Unfortunately, this is why many managers interpret IT as a utility and often see it as a liability. For this post we studied 3 organograms which popped up after a Google search and describe in 500 words what is (probably) wrong or right with them in terms of the role and place of the IT department. You can read Arjen's post with the same title here.
Peter Hinssen has written a book titled Business/IT Fusion. In it, he attacks the current focus on aligning IT and the business and proposes to truly integrate IT into the business: a fusion. In his introduction he writes:
So, cost reduction in IT typically enhances the stereotype of IT being a commoditized, non-differentiating function. [..] Alignment is like a slow-acting poison that initially shows no signs of having a negative effect, but which paralyzes an IT organization by inducting servant like behavior.
His website shows the transformation that he is advocating:
Drucker wrote in The Practice of Management:
Because the purpose of business is to create and keep a customer, the business enterprise has two -and only two – basic functions: marketing and innovation. Marketing and innovation produce results; all the rest are costs.
I am a strong believer in IT as one of the drivers of innovation. Hinssen references a 2005 Harvard Business Review article by Nolan and McFarlan, Information Technology and the Board of Directors, in which they publish a IT strategic impact grid: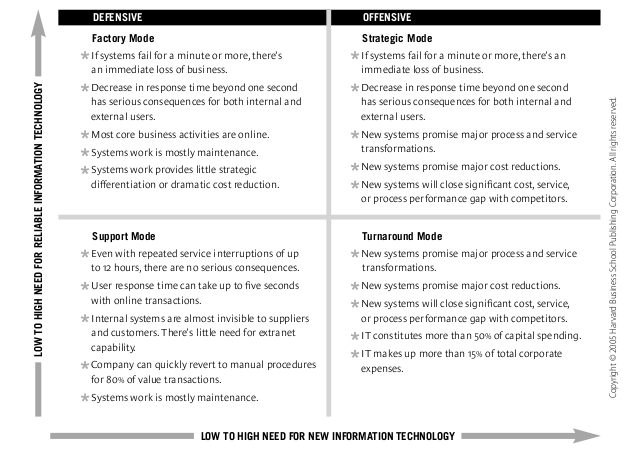 If you believe that IT should be playing on the offensive side of the grid, then this should be reflected in your organizational structure. So let's look at the following three randomly chosen organograms and see whether the organizations consider themselves to be in factory mode, support mode, turnaround mode or strategic mode and whether they show signs of fusion. One way of doing this is to try and see whether there is a separate IT branch or not and whether IT and business processes are in the same box.
First Hibernia college, an online college in Ireland: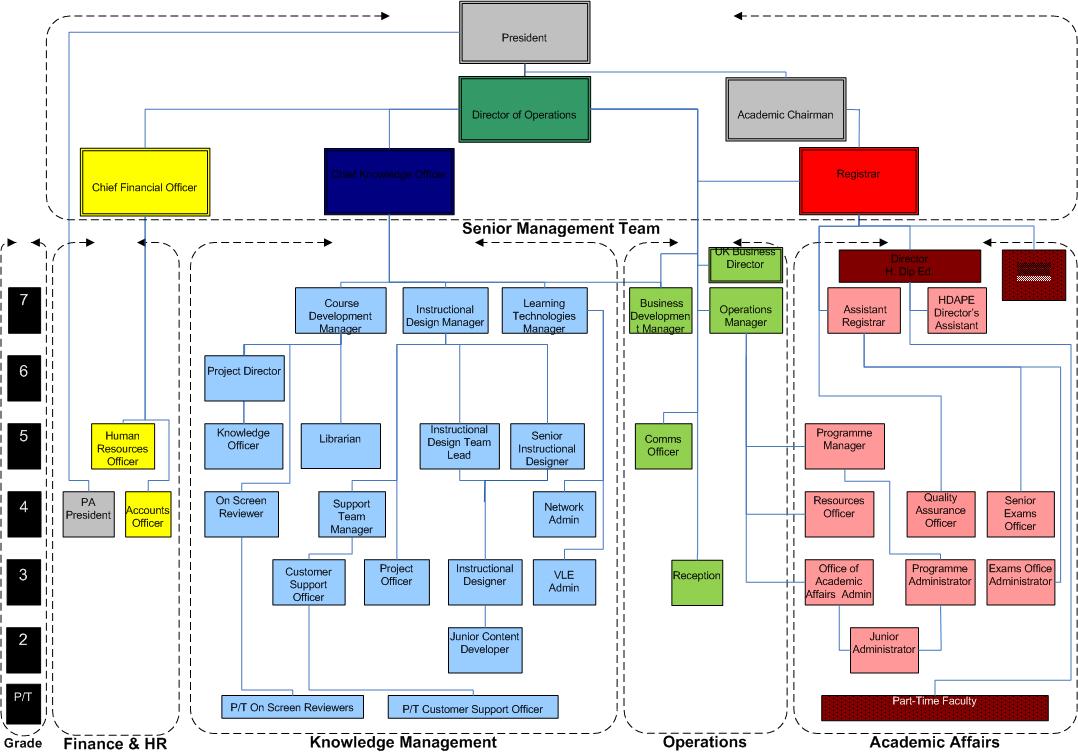 IT seems to reside under the Chief Knowledge Officer (who reports into the director of Operations). An online course seems to need development, instructional design and learning technology (each has their own manager) and it seems pretty clear that technology is part of the core operations. This organization probably considers itself to be in strategic mode (makes sense for an online college!).
Next ONGC India, an Oil and Natural Gas Corporation: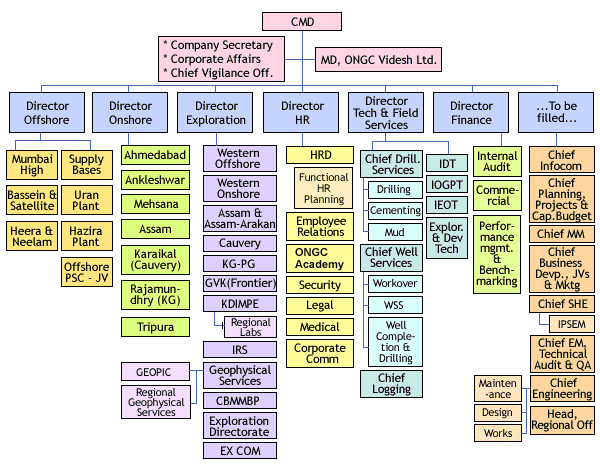 This one is a bit of mystery to me. There is a chief "Infocom" who reports into a role that is called "…To be filled…". I imagine that this company will have multiple IT perspectives. The director of Tech & Field Services will have to steer a lot of technology and will be well integrated with the business. The infocom chief will likely have a much harder time playing in the offensive space.
Finally Uniex Ghana Limited, a trading company and consultancy: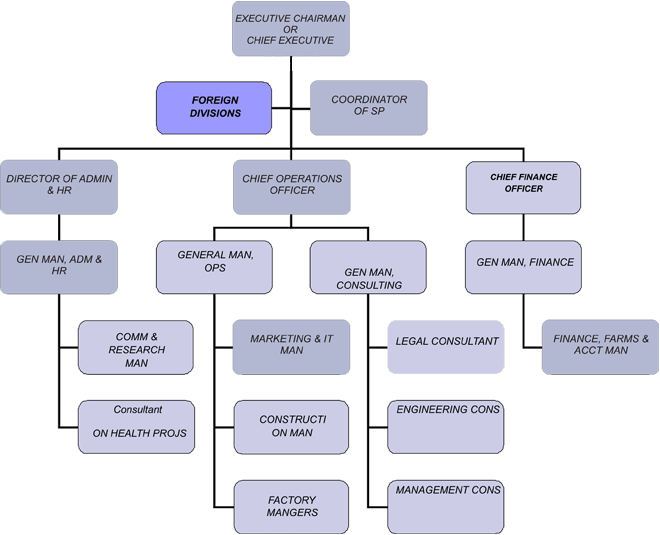 This is very traditional organogram. There does not seem to be a high level IT role (no CIO). There are two layers of organization between the Marketing & IT manager (one of the most important roles if we agree with Drucker and the CEO). I wouldn't be surprised if this organization would consider itself in support mode.
My main conclusion from this exercise is that an organizational diagram is not a good indicator for the role that IT plays in a business. I do not seem to be able to parse these diagrams in such a way that I can really understand how IT is seen in the company. Is that my lack of competence? I do now realize I need to do some more thinking in this area.
Looking at your own organization, what mode do you seem to be operating in?