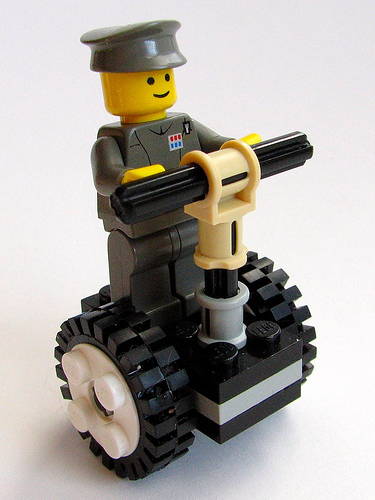 I love Segways. In June I used one in San Francisco and I think it is an amazing extension of your body. Within five minutes riding feels completely natural. All the movements are intuitive, it is a brilliant piece of design.
I am at Learning 2008 in Orlando. I have been thoroughly impressed by how well designed the conference is. Everything seem to be consciously thought out.
The host Elliott Masie rides around on a Segway in between the sessions. I was looking at him and suddenly noticed that it does two things for him:
It makes him unique. He is the only one.
It adds height: he is the tallest guy in the room and can pet people on the back while they are looking up to him.
This reminded me of some research that I read years ago about taller people having more authority, being more successful and earning more (e.g. Short Changed).
I (obviously) wasn't the first one thinking about this. See for example the height advantage.
This begs the question whether Masie is aware of this when he uses his Segway. If I look at how precisely designed the rest of the conference is, I can't imagine he isn't (which is fine…)